Thanks to the financial support of Fondation de France, we have just activated 11 Saint Nicholas' Havens for the refugee children in Poland. They are located in Wisla, Dębica, Łomianki, Cieszanow, Kędzierzyn-Koźle, Krasne, Ropica, Rude, Lublin and two in Warsaw.
Our newly created Havens are already buzzing with activities which include workshops, creative arts, dance, interest groups, trips and integration camps. But it is not all about music and fun: our Havens also provide Polish language classes as well as free psychological support to the most traumatised children.
We are very grateful to the Fondation de France for their assistance!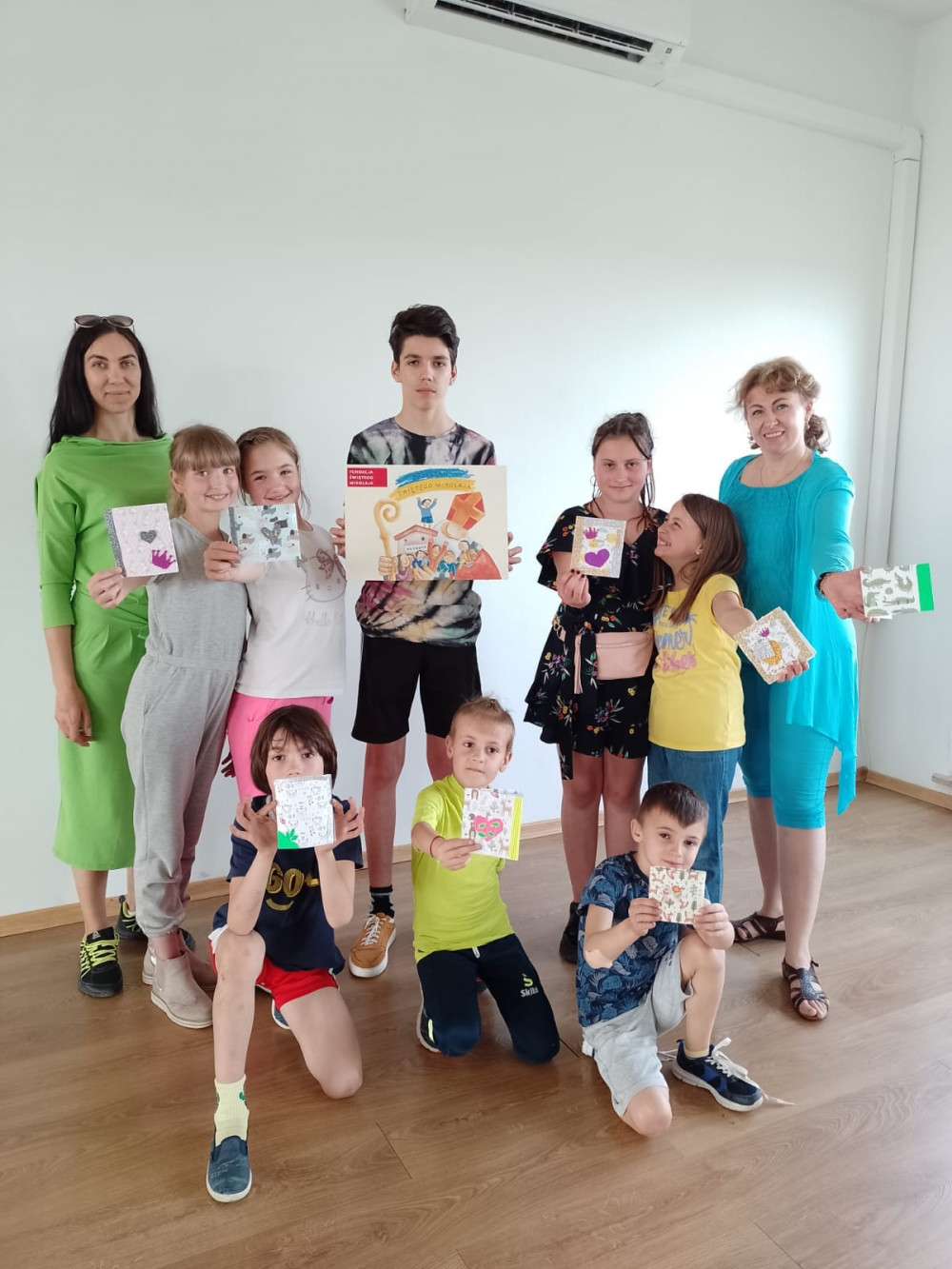 Our local partners across Poland are already in full action mode and have launched many wonderful initiatives for the Ukrainian children and teenagers who are seeking refuge in their towns and villages.
Saint Nicholas' Haven in the public library in Dębica
The library organises activities which join the elements of biblio-therapy with music-therapy to help the children forget, albeit just for a few hours, about the nightmares of the war they have escaped from.
Polish lessons have also begun – they will allow the children and youth to adapt faster to the new place and establish relations with their Polish peers.
We will soon launch cooking classes, art activities and sport games for the Ukrainian children and teens. Other activities planned for the next weeks include a bike trip around the area and a meeting with the local forest ranger who will talk about his work in the forest, the local flora and fauna.
Saint Nicholas' Haven in Krasne (in cooperation with the Krasne Womens' Association)
In Krasne we have opened a recreation and education center for the Ukrainian children and teens. It is open three times a week: on Mondays, Wednesdays and Fridays. We are also in the process of creating a play corner for the younger children.
Teenagers can already attend art and dance classes in Ukrainian language – for this purpose, we have employed Ukrainian educators. Over the next weeks we will organise trips to the most beautiful corners of the region: Solina lake, Bieszczady mountains antique train ride in Cisna and the trip to the zoo in Cracow.
Saint Nicholas' Haven in the Rude primary school
As part of the Saint Nicholas Haven in the Rude primary school, a Ukrainian-speaking psychologist will soon start working. Children will also attend a trip around the area of Rude, Raciborz and will also meet with a local forest ranger who will take the children for a walk in the forest talking about environmental protection, describe the birds and animals inhabiting the local forests and their habits.
No doubt children will greatly enjoy the canoe trip planned for the coming weeks!
In April we have selected 44 local partners together with whom we are opening Saint Nicholas' Havens across Poland (check here where our Havens are being created). We will be keeping you constantly informed about the activities organised by them!
Today, we would like to invite you to see some photos from the Saint Nicholas Haven in Krasne.
Since the beginning of the war, over 3 million refugees have fled the country which amounts to the biggest refugee crisis since WW2. Out of this number, almost 2,5 millions have already arrived in Poland. Most of them are women and children – some of whom travel unaccompanied. Each day, about 10 000 moms and children arrive in Warsaw, mainly by train, but also with other forms of public and private transportation.