Marshall, a dog from PAW Patrol, brought hundreds of smiles to our pupils' faces. Here's a report from another day of our activities!
Wednesday, April 20, was another day when we tried to bring smiles to kids' faces at the Saint Nicholas Foundation. The dog Marshall, who was our guest already once and helped us distribute backpacks for children from Ukraine, visited us again and went on a tour with us around Warsaw.
We started from the Warsaw Central Station, where we were only supported to distribute blankets for children who were travelling to other locations, but the mere sight of the protagonist of PAW patrol meant that we spent several minutes distributing gifts and taking souvenir photos of children (and not only) with Marshall.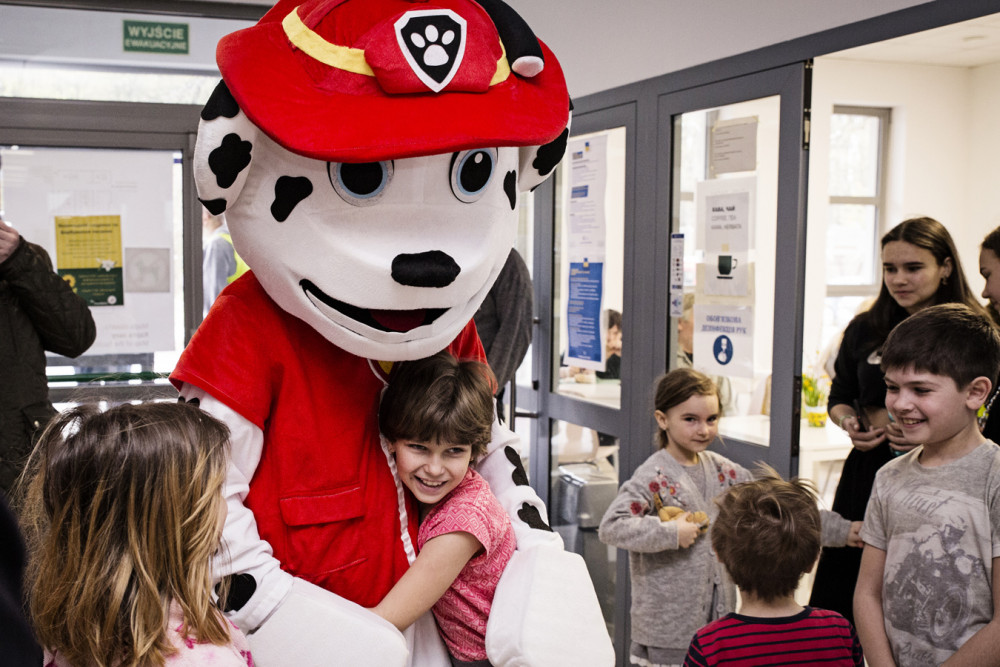 After that everything went according to plan. We visited children from the sports and recreation centre in the district of Bielany and two classes at the Primary School No. 247 where kids are learning Polish. Everywhere we went, Marshall caused a real stir; the kids were delighted – he posed for hundreds of photos and helped us distribute over a hundred backpacks and over 300 books for learning Polish.
We continued with the EXPO Center on Modlińska Street where we handed out another batch of our backpacks. Marshall high-fived dozens of kids and posed for hundreds of photos, and most importantly he brought a lot of fun and smiles.
On that day, we managed to distribute more than two hundred welcome backpacks to children. A big thank you goes to Marshall, the Bielany District Office and the mayor Grzegorz Pietruczuk, the director of CSR Anna Szymczak-Gałkowska, the director of SP 247 Marta Butryn, our photographer Małgorzata Rutkiewicz and, above all, our donors who help us deliver help to Ukrainian children.
Since the beginning of the war, over 3 million refugees have fled the country which amounts to the biggest refugee crisis since WW2. Out of this number, almost 2,5 millions have already arrived in Poland. Most of them are women and children – some of whom travel unaccompanied. Each day, about 10 000 moms and children arrive in Warsaw, mainly by train, but also with other forms of public and private transportation.