More than 2.6 million refugees (most of them women with children) have already reached Poland, and two thirds of Ukrainian children had to leave their homes, according to the latest data. The whole St. Nicholas Foundation team works tirelessly so that we can help as many children as possible.

Books for kids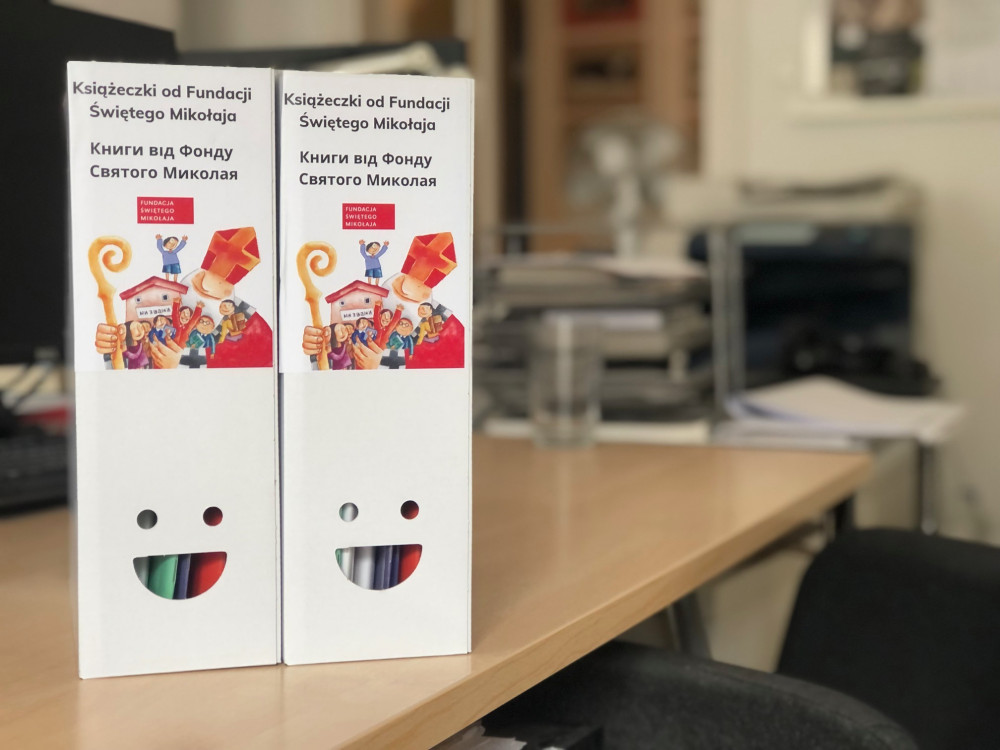 We have printed books for kids written by famous Ukrainian authors. They are extremely popular among the children. The authors include Lesia Ukrainka - one of the most important writers and poets writing in Ukrainian, Saszko Dermanśkyj, a contemporary author of books for children, Wiaczesław Lehkobyt, a respected artist and illustrator, Anatoly Hryhoruk - a popular writer, translator and author of many books for children, Wasyl Kurowśkyj - a poet and humorist, Kateryna Rejda, graphic artist, painter and collage artist, Hanna Samutina - one of the most famous Ukrainian artist of the 20th century, or Volodymyr Holozubov, whose illustrations are known to all Ukrainian children. We have already delivered the first 1,000 copies of the books to libraries, community centers and other places where children are staying.
The distribution is coordinated by Natalia Chruścicka: tel. +48 789 320 721 or 22 825 03 90, e-mail: natalia.chruscicka@mikolaj.org.pl
Backpacks with a surprise
Every day, we distribute backpacks to children to welcome them in Poland. We also send some of them to children internally displaced to the west of Ukraine. Inside the backpacks, the children will find a small snack, crayons, coloring books, puzzles and an egg with a surprise. We have already prepared 500 school kits for kids and continue packing. Last week, we also distributed several hundred blankets to children.
Humanitarian and medical aid
We continue sending humanitarian and medical aid to children's hospitals in Ukraine. Last week, 125 pallets worth over PLN 1.4 million and weighing 175 tons left our Logistics Center for Ukraine. Our trucks are headed to large logistics center located in Ivano-Frankivsk (Ukraine) or directly to specific locations in Ukraine, including those that are the most difficult to reach, such as Kharkiv.